What are People Saying About Carol's Paintings?
"What I love about The Blue Beyond, is that it evokes many emotions and thoughts while conveying a sense of calmness and peace after the business and brightness of the day. I love the powerful, twisted tree and it's shape and color. I love the hidden qualities of Carol's backgrounds because when I look at it closely, I can see hidden patterns and textures.
What stands out most about Carol's work is that each painting speaks personally to the viewer. She is a master at her art. However, it is the colors and the juxtaposition of her imagery that truly makes her paintings extraordinary and unparalleled." ~ Jenny Mitchell, Business Owner
"I see something new every time I look at one of the 4 paintings of Carol's that I own. I love the mystery and memories that each painting conjures up." ~ Donna Tarras
"Last fall I had the opportunity to visit Carol's studio. At the time I had no intention of purchasing a painting, it was just a visit. While wondering around the studio, I came upon her painting Moon Window and it simply drew me in. Each time I walked away from it to look at her other paintings; I was drawn back to it. The color, composition and that special 'something' made me realize I needed to have it. Moon Window now hangs in my home and continues to enchant me everyday. I am so glad that I made that studio visit." ~ P. Patterson, Engineering Consultant
Testimonials from Collectors Who Commissioned a Painting:
"We have cried – Carol brought PeeWee back to life, and along with her, so many special memories. She looks just like we remember her – we are amazed Carol captured her intensity in the eyes and body. We could not be happier!" -- Kirsten & Joe Stasney
An artist like Carol McIntyre wants more that just a snapshot or two to work with, she wants to know the subject as well as she can to enable her to capture its spirit, and that means an extensive interview. Instead of surprising my wife, I knew I had to include her in the process and we began the process together.
The entire painting process was documented step-by-step on her web site so friends and family could follow along. It was as if you were in the studio with her, a very exciting experience!
When we went to Carol's studio for the final approval, Suzie and I were overwhelmed at what she accomplished! I don't know how she does it, but she truly captured Curley's spirit, and anybody that views his portrait will see more than just a black horse. She created such a beautiful tribute that will help us remember a dear friend long after he is gone. -- Rick & Suzie Tiller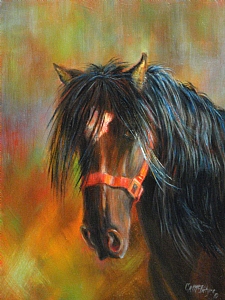 It was amazing to stand together at Thanksgiving & hang Carol's painting in our parent's home. The scene revived cherished memories for each of us. We laughed & cried as we shared our thoughts and feelings about the family cabin. -- Joan Cook
"Through her artistic skill at reaching for those important details that make a painting personal & meaningful, Carol has created something unique & special for us to enjoy in our home. The handportrait she did of Frank playing his cornet captures an image of the music that is an integral part of our lives. It is something we will always treasure, and enjoy sharing with our friends." -- Debra & Frank Hilligas
~~~