« Fifth Stage of "What's Next ?" | Main | Finished Painting »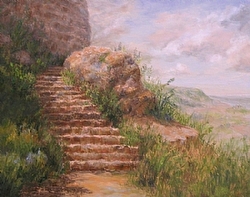 "What's Next" stage 6
That big empty right hand corner now has more sky color and clouds. The clouds are designed to bring your eye back into the painting. The back wall has been darkened to help pop the stairs more and additional rendering has happened all over the painting. This is the beginning of the fine tuning. I turn the painting upside down to see how it reads, I look at it in a mirror and I might take it to a fellow artist to solicit a critique. At this point, it is often hard to see the "trees from the forest" because I have been looking at it so intently for so long. I also ask questions, such as: Am I accomplishing what I intended when I began painting this image? Is there intrigue? Is the focal area where I want it to be? Do I warm up the big rock more? Is there enough drama? Are the colors harmonic?

...and your answers would be?

And I think I am going to change the title of this painting.
Topics:
with palette knife
---
---
Comments