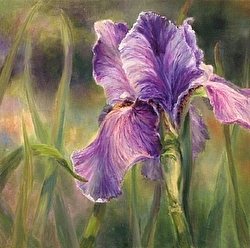 "The Iris Lady" - 12x12 oil on gallery canvas
During the past 6-8 weeks as I have been reading about southwestern France (known as the Quercy Region & northwest of Toulouse) and studying up on my French, I have been trying to decide which painting medium to use while I am there. Should I use oils or watercolors? Finally, I settled on pastels, which is the medium I have used most often while painting en plein air. Packing for our 2-week excursion has also been full of decisions. I would rather forget about the clothes and just bring art materials!

Then there is the wonder of what will inspire me while I am there. What will the colors be? The light? How will the French respond? My husband, Bob, and I will be staying in a small village along the Lot River. Rolling fields of malbec grapes will be, hopefully, in bloom, inter-spersed with oak trees, and high cliffs along the river. Castles and century old buildings are supposedly also up for the offering. Sounds like a candy store to me!

Meanwhile, I have been painting daily in preparation for a large 2-person exhibition coming up in November, at the University of Minnesota Arboretum. A thousand acres and over 1,000 flowers, serve as our inspiration. My goal has been to complete 12 (of the projected 25) paintings before I depart for France. This is a recent painting, nearly finished, of an iris. I wanted to capture her elegance, as well as make you feel as if you are right in the garden.
Topics:
Southwestern France Trip
---
---
Comments
1 Response to Preparing for Our Trip to France
Vicki
via web68 months ago
AHHHHHHHHHHHHH! WOW! I love it! "The Iris Lady" is a winner in my book!

Have a wonderful, safe trip. Looking forward to seeing you at the Arboretum (going to buy myself a yearly pass for Mother's Day).

Vivala France! "Wee, Wee" (OK that's the extent of my French...)
* indicates a required field