« Dog Portrait Painting Process of Tika - Step 1 | Main | Dog Portrait Painting Process of Tika - Step 3 »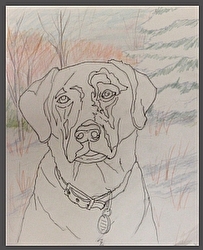 Drawing of Tika on tracing paper
What did I do with all of that snow that was on Tika's face in the reference photo? Ahhhhhh, the magic of PhotoShop Elements! I have learned to use the bandaid button and it comes in handy in situations like this. The other photographs will help me when it comes to painting the final details of her jawls, mouth and nose. You can see in the digital photo that I lightly colored in the background of the winter forest and evergreens with colored pencil.

Tracing paper is used because after this sketch is approved by Kirsten & Joe, I then tranfer in onto my pastel paper. They asked me to add her dog tag. Some dog owners like the collars and dog tags and others do not. It is just one of the many things that are customized in my Memory Portraits. The variety is wonderful.

Would you change anything in this sketch? Some of the lines on Tika's face are for me, so they may seem a little strange to you. What other questions do you have at this stage of the game?

...to be continued.

Topics:
Memory Portrait of Tika
---
---
Comments
1 Response to Dog Portrait Painting Process of Tika - Step 2
Kirsten and Joe
via mcintyrefineart.com46 months ago
Amazing how this sketch captures Tika's expression. The background is also perfect, since it is where we hiked together daily. I never got a good photo of her by that tree because the lighting was never quite right and her black face never showed up. There isn't anything we see in this sketch we would want to change. We can't wait for the next step!
* indicates a required field