« Memory Portrait of PeeWee - Step 11 | Main | Dog Portrait Painting Process of Tika - Step 2 »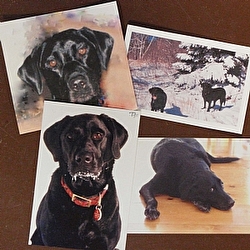 Sample reference photos of Tika
This next dog portrait is the second of four Memory Portraits that I will be painting for Kirsten & Joe. Her name was Tika and she had a strong connection with Kirsten. Because these 4 paintings will most likely hang together, I need to think collectively as well as individually. To help with the consistency between the paintings, each will be 11x14, painted in pastel and the head sizes will be approximately the same. I am not concerned if they will all hang vertically nor horizontally; I checked this out with Kirsten & Joe during our interview.

Many reference photos of Tika were provided (the more the better!), and I have a sample of them showing here. The pose that Kirsten & Joe want of Tika, is the one where she has snow on her face. Tika loved the snow and being outside, consequently, I used another photograph as my inspiration for the background of Tika, that you will see in the next post. PeeWee, the first dog, has a warm fall background and now Tika's is winter. It will be interesting to see how they work together. What do you think? Should I be concerned?

...to be continued.

Topics:
Memory Portrait of Tika
---
---
Comments
1 Response to Dog Portrait Painting Process of Tika - Step 1
Kirsten
via paintingharmony.com47 months ago
I'm not concerned. We trust you.
* indicates a required field