« Practice Dog Portrait with Dylan - Step 2 | Main | Practice Dog Portrait with Dylan - Step 4 »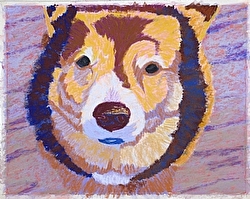 Second layers of pastel applied
What is wrong with my drawing of this dog? Do you know? I believe that I have an idea, but I will continue with my painting because this is a practice exercise. Learning a new subject matter does take time and mistakes are bound to happen.

During this stage of the painting, I maintain my original large shapes and begin thinking about the colors that I want to apply under the top or later colors. I learned from painting my cat that the tawny colors work better with yellows as the under colors and that is why you see a lot of yellows and browns. Notice that Dylan still reads as a flat image. The modeling or making him look more 3-dimensional does not occur until the next phase.

Having never painted dogs, I am surprised by how much I am enjoying the challenge of this new subject matter. These are live creatures with individual personalities. It will be interesting to learn how to convey their character. You will have to keep me on my toes to make sure I do that!

Have you figured out what is wrong with my drawing of Dylan?

...to be continued.

Topics:
Practice Dog Portait-Dylan
---
---
Comments
2 Responses to Practice Dog Portrait with Dylan - Step 3
Judith Stock
via web52 months ago
Carol, I know we talked about this at length, but I continued to think about the "issue" after I returned home and looked at Dylan. His black nose is (circumference) about 1.5 times the circumference of his eyes.
Carol McIntyre
via mcintyrefineart.com52 months ago
And in the painting it is about twice the size of his eyes or more?? :) Oh, the camera lens cannot always tell the truth. Great lesson to learn as I paint more animals.

Carol
* indicates a required field