It is a luscious spring in Ireland. Before you is a stellar 180 degree panorama of rolling hills and vegetation. You are inspired to pull out your paints to capture this idyllic scene. You drag out the easel, get your canvas/paper secured, squeeze out your pigments and then the big question hits you, "What do I use to mix my greens?" Followed by a groan, "There are such subtle differences in the greens. Which colors do I use?"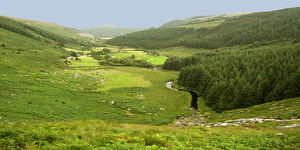 Or let's say you return to your studio having had a great time at the farmer's market filling up your basket with fresh green peppers, cabbage, kale, green beans and lettuce. These nutritious and gleaming vegetables were hand picked specifically for a still life. Again, the question leaps up about which colors to use to mix your greens.
Do you dread mixing greens? Why do you think greens are so difficult to mix and convey accurately in painting?
In my "From Mud to Magic" color classes, I love to teach how to mix greens. Why? Because students unlock a mental and technical block to mixing green. It is also fun for me to see light bulbs turn on with smiles as the green 'problem' disappears.
Where to begin? First, remove ALL of the tubes of green from your palette because you are going to be using a yellow and a blue to mix your greens.
Second, now pick out a very lemon yellow tube of paint. This could be cadmium yellow light or aureolin or hansa yellow or simply lemon yellow. It is important that it is the one yellow you have that appears almost greenish. The other way to determine the correct yellow is to NOT choose a yellow with any orange or red in it, such as cadmium yellow.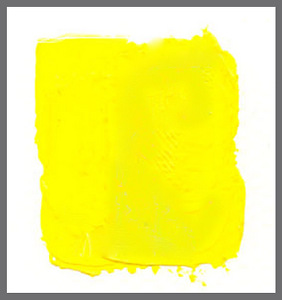 Cool or green yellow sample
Third, for your blue, choose a blue with a lot of green in it or a cool blue. This could be Prussian blue, thalo blue or Winsor blue. You do NOT want to choose a blue with red in it, such as French ultramarine blue. Another characteristic of your green-blue, is that it must be of a dark value. Hence, cerulean blue would not be a good choice because it does not create a dark value.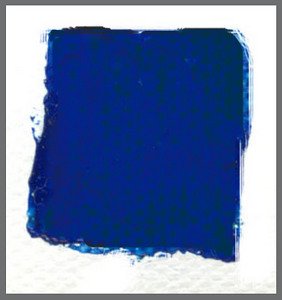 Cool or green blue sample
Fourth action is to begin mixing the yellow and blue in various ratios. In other words, add a little blue to a larger quantity of yellow, then add more blue, etc. Then mix an equal amount of yellow and blue to find the middle green. Below is an example if a green scale I mixed.

Yellow (cool) and blue (cool) make spring greens.
Why do you think the greens you have mixed are so bright and spring-like? When you mix a green-yellow with a green-blue you will notice that neither pigment is contaminated with red. Since red is the color complement/opposite of green, the lack of it creates a bright spring-like green. If you mix a green with a blue or yellow with some red in the pigment, the green will be dulled.
Now, how do you use these same two tubes of paint to generate warmer greens for your painting? Take out your orange tube of paint, such as cadmium red light or cadmium orange. Now mix a little of this orange with your original mixtures of greens. Below is an example of the greens I created after mixing a little orange. Aren't they nice warm greens? Notice that using a blue with a dark value allows you to mix dark greens. Can you begin to see why you do not need tubes of greens in your palette?

First mixtures of greens mixed with an orange.
To warm your original greens up even more, try mixing them with burnt sienna.

First mixtures of greens mixed with burnt sienna.
Do you see how easy this is to do? Which pigments do you use to mix your greens? Share your approach.

Here is an example of a green chart I created just using FOUR tubes of paint. I call them green chromatic scales because the steps in the color changes remind me of musical scales. Let's see you paint one using your own pigments. Enjoy!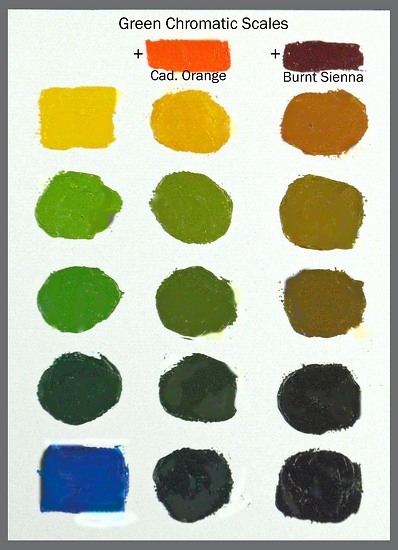 Green chart showing mixtures using only 4 tubes of paint.
Comment on or Share this Article →
---
---
---
---
---
---
---
---
---
---