Capturing harmonic mysteries on canvas...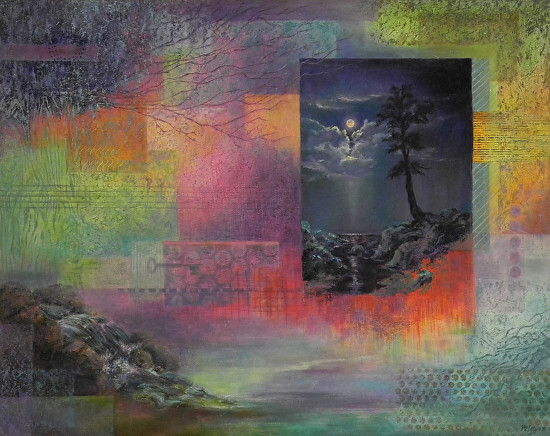 "Moonlight Sonata" 24x30 oil with palette knife & brush. Can you hear that lovely melody of Beethoven's "Moonlight Sonata," while looking at this painting? Or perhaps hear the music of water rolling down the rocks under the sparkling moon?
This painting was not only inspired by the clear moonlight we experience in the forest of Colorado, but also because it was one of the songs my mother often played on the piano as the four us went to sleep....a fond memory.
---
"I love your colors!" is frequently what people say when they look at my paintings.
Would you like your life to be infused with more beauty, color harmony and intrigue?
If so, you are welcome to peruse my work by clicking here. Enjoy finding an original piece that meets your artistic sensibilities and moves your spirit.
Artwork can be purchased directly from this web site or by contacting me at 719-510-0006 (MT).
It is a joy working with aesthetic oriented home/office owners who are ready to bring harmonious mystery into their living and work environments. Allow me to work with you to find the painting that will enrich your life and at a price that feels just right.
~~~~
You are invited to visit my Colorado Studio in
Black Forest (22miles north of Colorado Springs).
You are welcome to call 719-510-0006 for an appointment or to commission a painting.
Mailing Address: PO Box 88073, Black Forest, CO 80908